HillSouth Announces Cisco Premier Certification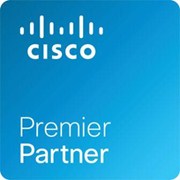 Florence, S.C., July 2, 2013 – IT consulting firm HillSouth announced today it has achieved Premier Certification from Cisco® in the United States.  To earn Premier Certification, HillSouth had to meet standards for networking competency, service, support and customer satisfaction set forth by Cisco.
HillSouth adds Premier to its ever-growing list of Cisco certifications. "Our Cisco certifications represent our continued investment in quality partnerships and continued education in our employees so that we can deliver advanced computing solutions for our clients," said Founder and CEO Robby Hill. "We're proud that Cisco has recognized our investment and we look forward to continuing a long and fruitful relationship."
As a Cisco Premier Certified Partner HillSouth demonstrates a range of technical expertise.  To achieve Cisco Premier Certification HillSouth was required to achieve the Cisco Express Foundation Specialization. This specialization includes tests on technical competency in the integration of basic routing and switching, wireless LANs, and security technologies. In addition, HillSouth was required to integrate a base level of Cisco Lifecycle Services into their offerings and demonstrate measurably high levels of customer satisfaction based on independently audited customer satisfaction surveys.
The Cisco Resale Channel Program provides partners with the training required to build sales, technical and Cisco Lifecycle Services skills.  Cisco resale partner certifications—Gold, Silver, Premier and Select—represent an increasing breadth of skills across key technologies and a partner's ability to deliver integrated networking solutions.  Cisco resale partner specializations—Master, Advanced and Express—reflect an increasing depth of sales, technical and service expertise in particular technologies.
For more information, contact HillSouth at (843) 292-9070, send an email to [email protected], or visit the company's website.
About HillSouth
HillSouth was formed in 2001 and is a privately-held technology consulting firm based in Florence, South Carolina, and servicing clients all over South Carolina. It has experienced professionals focused on delivering business solutions built on a strong technological foundation. HillSouth practices strategic technology consulting services in a wide range of industries all over South Carolina. The company has been recognized as a winner of the South Carolina's Workforce Partnership award and the SBA's Young Entrepreneur of the Year award for the Southeastern USA.
Cisco, Cisco Systems and the Cisco logo are registered trademarks of Cisco Systems Inc. in the United States and certain other countries.