Hospitality
HillSouth has extensive experience in your industry - and we're ready to deliver cutting edge solutions that will help your company to be more profitable
Time Warner Cable
HillSouth represents Time Warner Cable's unique Hospitality triple-play which brings to your hotel over a crystal-clear fiber-optic connection three key services that you need at one affordable price. Those services are: HD TV, Phone, and High-Speed Internet.
The Time Warner Cable triple play package is unlike anything you've ever seen in your property and comes from two companies you can trust. The HillSouth team will assign you a dedicated project manager and liason after the installation to assist you with all your needs during, before, and after the sale. No one else can make acquiring such innovative solutions easier or provide the high level of personal support you have come to expect from HillSouth.
We're proud to be partners with Time Warner Cable - please contact us today for more information.
Download a Hospitality Solutions Datasheet now
Zipit Wireless
We're proud to offer the innovative and industry-leading secure messaging system Zipit and integrate it with your hotel's guest and work order management system for seamless integration of your team and two-way communications over secure mobile devices - including iPhones. The benefits of integrating the solution with your HotSOS, Guestware, Starwood or other hospitality mangaement console include:
Ability to differentiate alerts based on priority (emergency situations are prioritized as required with forced accountability)
Secure two-way data communication that decreases call-to-action, inefficiencies and loud noise
Leverages internal Wi-Fi and cellular infrastructure to provide seamless connectivity throughout the facility, inside or out
Dictate responses (i.e. stopped orders can only be started again but not completed)
Improved Mobility, Responsiveness, and Guest Satisfaction using discreet, and accountable communications
Cost effective, with none of the unreliability and uncertainty of traditional pagers or coverage issues of standard devices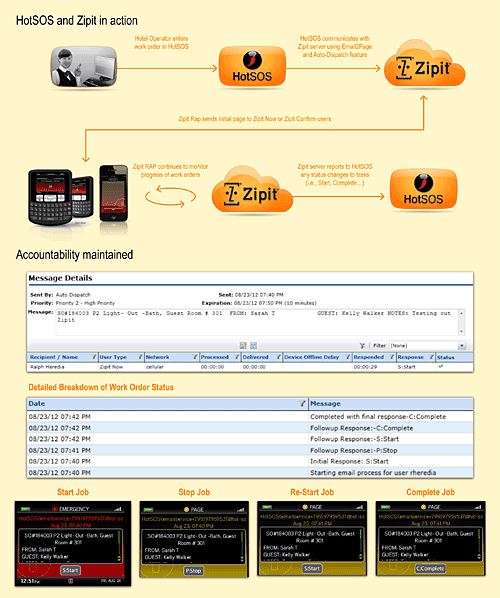 HillSouth's integration expertise, plus the Zipit service and product portfolio will make your facilities run more efficently and dramatically improve the response time to your guests and valued customers.