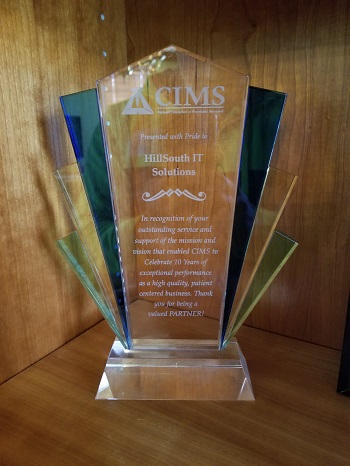 January 20, 2018 – Columbia, South Carolina: HillSouth was recently honored with a 10 year partnership award from Community Integrated Management Services (CIMS) at its 10 year anniversary celebration event this month. CIMS was founded by a large number of the Federally Qualified Community Health Centers (FQHCs) in the state of South Carolina and is charged with managing their relationships and contracts with the managed care organizations that work with South Carolina's FQHCs. CIMS also supports the centers with key insights and resources that assist them with delivering exceptional patient outcomes.
"HillSouth is proud to be working with South Carolina's community health centers in supporting their shared mission of delivering access to medical care for all of South Carolinans' for the past decade and many more decades to come" said HillSouth's CEO Robby Hill. "We know that a stable, secure, and sound IT infrastructure is fundamental to delivering health care whether it be in a primary care or remote setting and this firm is wholly committed to never resting in its mission to help its clients become the best at what they do by not having to worry about their IT infrastructure needs" Hill continued.
CIMS CEO Peter Leventis congratulated HillSouth on its history working with the many FQHCs in South Carolina and wished them the best in the years to come.
About HillSouth
Formed in 2001, HillSouth is a privately-held IT consulting firm based in Florence, South Carolina, and services clients all over the country with a particular emphasis on the unique computing and security needs of the healthcare industry. It has experienced professionals focused on delivering proactive IT technology support, stability and outstanding customer service to small and medium-sized businesses using technologies that are physical, virtual, hybrid or cloud.